Create beaded Christmas ornaments for yourself, to give as gifts or make a few to sell for "pin" money.* (please see note at bottom of this page) using detailed, easy-to-follow,
step-by-step directions that contain numerous graphics and a complete supply list. Patterns DO NOT contain specific supply colors unless noted.
Ornaments Make Wonderful Gifts For A Graduation, Wedding, New Baby, Birthday or Anniversary
Patterns are available via PDF file to your email address (you may print 2 copies for yourself) or via US Postal Service
(Add $3.00 for shipping and printing charges per pattern for USPS orders only). Minnesota residents add sales tax. Click on "Order Form" above.
Finished pieces may be ordered - please contact Joanie for additional information. Please see the note at the bottom of this page
Patterns are $10.00 or $15.00 Each - Kits Are Individually Priced - Click on Photos or Links for Additional Information
Glass Christmas Ornaments For All Sizes Are Available - Click on the "Supplies" Tab Above
New
"Trilogy" Christmas Ornament
New
tril-o-gy n. a group of three related things
Czechmates Triangle and 2-Hole Bar Beads, Japanese Seed Beads and a 48mm Glass Ornament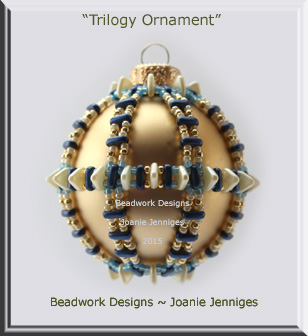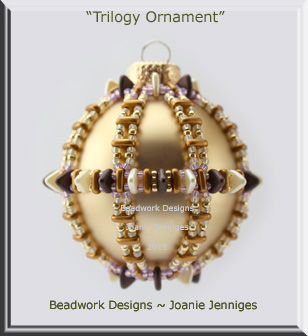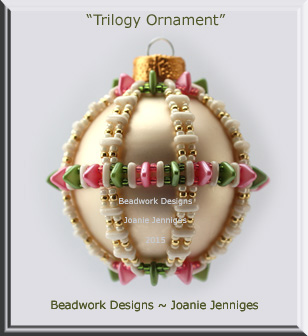 "Majesty" Christmas Ornament
ma-jes-ty n. regal; royal; grandeur
Swarovski Pearls, Two Hole Super Duo Beads, Japanese Seed Beads and a 48mm Glass Ornament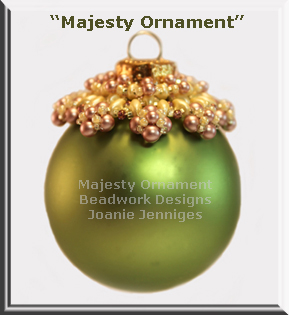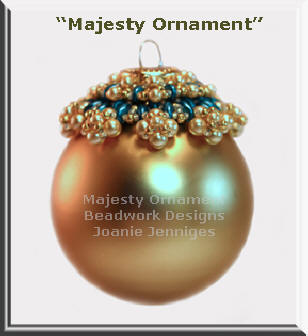 "Panache" Christmas Ornament
pa-nache n. style; flair; an ornamental item with tassels or plumes
Swarovski Crystals, Japanese Seed Beads and a 30mm Glass Ornament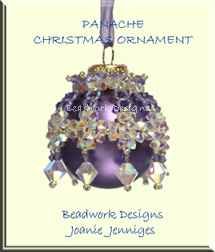 "Faithful" Christmas Ornament
faith-ful adj. meaning reliable; trusted
Inspired by Yellowstone's Old Faithful, Chromatic and Morning Glory Pools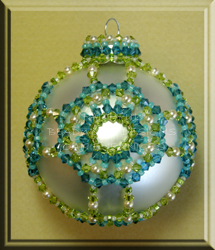 "Reticella" Christmas Ornament
Italian n. meaning "little net". Renaissance fabric, akin to lace, with an open pattern
and characteristic geometric design of circles and squares

"Remembrance" Christmas Ornament
re-mem-brance n. to celebrate and honor the memory of a person; a memorial
Designed For and Dedicated, With All My Love, to My Sister Jackie & My Brother Jim
You are both so profoundly missed but will forever be loved and never forgotten
Hearts for the love that we share and hold so dear
Teardrops that were shed in sadness or joy
Picot flowers for renewal, growth and unwavering faith

"Celebration" Christmas Ornament
cel-e-bra-tion n. a joyful occasion to commemorate
a special event, sacrament or ceremony

"Contessa" Christmas Ornament
con-tes-sa n. regal; an Italian countess

"Eternity" Christmas Ornament

e-ter-ni-ty n. of eternal love & devotion;

infinite time

"Garland" Christmas Ornament
gar-land n. worn for adornment or as an

honor; hung on something as a decoration

"Jubilee" Christmas Ornament

ju-bi-lee n. a season or an occasion of joyful

celebration; especially a 50th anniversary

"Starflake" Christmas Ornament

starflake n a smaller ornament designed to unite two seasons

in order to celebrate "Christmas In July"

"Swingtime" Christmas Ornament

swingtime n. an era of jazz music in the 1920's and

1930's; a distinctive style of rhythm relating to swing music

"Victorian" Christmas Ornament

vic-to-ri-an adj. ornamental; belonging to a specific era;

the reign of Queen Victoria
* You may use instructions, designs, graphics and photographs to create items for personal use, gifts or "pin money" only giving credit to the designer, but may not not mass produce items; reproduce, sell or copy, the instructions, designs, graphics or photographs, or use designs or instructions in teaching, with kits or in contests without the written permission of Joanie Jenniges. You may NOT use or copy any content of or from this website or from a class, including photographs and design, or represent it in any venue as an original design. You may NOT rewrite or copy designs, articles or tutorials from a website, class, purchased or published materials. © Thank you!
Copyright © - Beadwork Designs & Joanie Jenniges. All Rights Reserved.